This is the Virtual Voice Over Animation Experience of a Lifetime!!!

Our Special Guest, Debi Derryberry 
Limited engagement!
Monday, February 22, 2021 from 6:00PM – 9:00PM EST*
ZOOM link provided upon registration
ZOOM link provided upon registration*Register by clicking here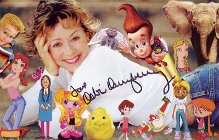 Don't miss this stunning opportunity to work  with our famous studio training guest, the fabulous Debi Derryberry!  As a Hollywood A-list VO veteran, she will be joining us in our studio Zoom room to offer a stellar training experience not to be missed!  Including, but not limited to: personalized feedback of your copy reads, groundbreaking industry insights and underground scoop of the global market today, buckle up, it's going to be a wild ride full of fast, fun  and frenzied topics and exercises which may include: Breathing and character development, mindset and focus, Improvisation for VO and copy provided by Debi specifically chosen for our studio group. How cool is that! Whether you are launching your career or looking to kick your current VO career into high-gear, this one is for you!  ALL LEVELS WELCOME – NO EXPERIENCE NECESSARY!  
Debi Derryberry, one of Hollywood's top female voice-over talents working in the industry today. Famous characters include: F is for family (Maureen Murphy) which is currently running,Jimmy Neutron (Jimmy Neutron: Boy Genius), Speedy Alka-Seltzer (national commercial spot), Wednesday Addams (The Addams Family, TV series), Draculaura(Monster High). She can be seen in iCarly, True Beauty, and Free Willy. She has also lent her voice to well-known feature films Wreck-it Ralph, The Lorax, Ice Age 2, Toy Story, and A Bug's Life. We are honored to host Debi for this special engagement and proud to have her as part of our MCVO National Talent roster!