✰ Professional Voice Over Demo Reels ✰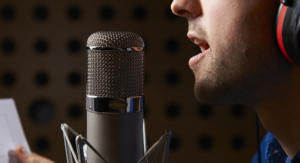 Dwayne Sneed Commercial Voice Over Demo
Sam Zephir Commercial Voice Over Demo
Trish Lawton Commercial Demo
Our voice over demos conform to the highest, most up to date levels of quality in the business. Our industry standard voice over demo's are heard all over the world, and are helping our client's book work and land top representation. Our state-of-the-art audio studio utilizes the very latest in recording and editing equipment. Voice Over demo recording and editing time is SEPARATE from hourly coaching programs. Sample recording available upon request!
Voice Over Demo Recordings: 
Commercial
Narration
Animation
Etc.
Our Promise to You: *100% money back guarantee if you are not completely satisfied within 30 days of your purchase*
(Excluding Actor Reel/Voice Over Demo Services, Showcase Events, & Online Handling Charges)
From our studios in Boston, New York & Miami to our national connections in Los Angeles, the mid west and south to international partners from the United Kingdom and Canada, we will help you get networked globally.