Virtual Bi-Coastal Showcase!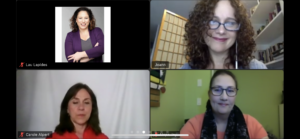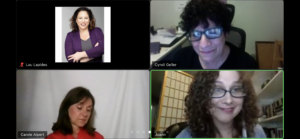 Promote and propel your professional Voice Over, Acting or Modeling career in ways you can't imagine!  Uniquely-designed for a multi-dimensional, 360 degree industry view into the mechanics of making a career as a talent in the entertainment industry.  Offering exclusive behind-the-scenes tools & techniques helping you distinguish you and your brand from the competition!  Gain professional development while auditioning,  receive personalized one-to-one direction and feedback from the highest level industry from LA to NYC and beyond!  Showcase your audition for major talent agents, managers & casting professionals.  An incredible offering for working talent to be seen and heard across the world in some of the busiest offices and casting agencies for pilot season, TV series & feature film, national VO spots & print work.  Strategically geared for all levels from entry level to seasoned pro, this experience may be a total game-changer for you!
After registering, please e-mail us at laulapidescompany@gmail.com and let us know which sessions would are attending*
No Refunds for this event (due to the commitment of our facility and industry guests we are unable to offer any refunds, for any reason including: Illness, injury, bereavement, scheduling conflicts-the show must go on).  
Event Date
Saturday June 27, 2020
Time
Showcase Session: 9:00AM - 10:30AM
Showcase Session: 11:00AM - 12:30PM
Lunch Break
Showcase Session: 1:00PM - 2:30PM
Showcase Session: 3:00PM - 4:30PM
Location
Virtual - Zoom
Fees
$125 per Session
Showcase Prep (All Times EST)-
Showcase #1 9:00 – 10:30AM –
Allie Silber (DDO Artists Agency) – Cold Voice Over Copy
Jenevieve Brewer (Jenevieve Brewer Talent Management) – 2 Minute Contemporary Scene
Jim Kennelly/Sam Ufret (Lotas Productions) – TBD
Joann Yarrow (Syracuse Stage & Live Animation Studios)
Showcase #2 11:00AM – 12:30PM-
Craig Holzberg (Avalon Artists) – 1 Minute Contemporary Monologue
Barry Shapiro (Herman & Lipson Casting) – Semi-Cold 2 Minute Contemporary Scene
Joann Yarrow (Syracuse Stage & Live Animation Studios)
Showcase #3 1:00 – 2:30PM-
Valeri Bates (Hoffman International) – 1 Minute Prepared Contemporary Monologue
Ed Batchelor (Arcieri & Associates) – TBD
Joann Yarrow (Syracuse Stage & Live Animation Studios)
Showcase #4 3:00 – 4:30PM
Pamela Kramer (Bradley Baron Casting) – (TBD)
Shana Landsburg (Leigh Brillstein Management) – 1 Minute Contemporary Monologue
Joann Yarrow (Syracuse Stage & Live Animation Studios)
WHAT OUR TALENT IS SAYING:
"I met Lau in 2010 while searching for a new coach to advise me on updating my voice-over demo. We connected from the moment we first spoke…her warmth, sincerity, humor and passion for the fields of voice-over and acting oozed through the phone lines. 

What began as my proposed few sessions turned into a 2-year long holistic exploration into myself as a voice-over artist and a human being. Incorporating private voice-over coaching sessions, acting classes, singing lessons and numerous Boston & New York-based voice-over workshops, Lau inspired me, encouraged me, helped me refine my skills, introduced me to a community of voice-over colleagues and kept me laughing throughout the journey. Lau is truly a one-woman dynamo and a valuable asset to the voice-over community."
-Catherine Iagnemma, Voice Over Talent
"As a voice-over talent who occasionally has a need to hire other voice-over talent, I have utilized Lau Lapides Company often over the last couple of years. 

Lau has sent me demos for many voice-over actors from which I can choose when I have need for alternate voices to record various eLearning projects, which in turn has helped me grow my own voice-over business. 

Her excellent coaching of her voice-acting students is highly apparent in the skills I've observed in them, and her genuine caring for her students is palpable in every communication Lau and I have shared. She is a wonderful resource for her talent, for me, and for the acting community at large. She has great energy and integrity, and I highly recommend her services!"
-Jill Goldman, Voice Over Talent
"Working with Lau, I was able to break through a wall that was keeping me from moving forward with voice over acting. I would record something, then listen to it and I would hear a "dead" voice. Not the voice of a human being. Not the voice of someone who should be listened to. 
Lau was able to guide me to a place where I was able to visualize and sink myself into a real situation, allowing me to wring humanity out of the words in front of me. 
She's also been an amazing guide through the BUSINESS of voice over. 
I intend to continue working with Lau until… hmm… 
I don't know why I would ever stop."
-Eric Fox, Voice Over Talent
Note: Industry guest schedules are extremely busy. ALWAYS SUBJECT TO CHANGE* Participation in VO/Actor Pro on the Go does not guarantee Talent will receive an industry meeting post event, nor secure any kind of representation or casting. LLC does not guarantee talent will be seen by specific representatives nor any particular number of representatives.