✰ VIRTUAL NO "BS" VOICE OVER ONE DAY INTENSIVE ✰
with Lau Lapides & Studio Coaches/Guests
Saturday March 6, 2021 from 9:00 AM – 5:00PM EST
Zoom link provided upon registration.  Click Here to register for a half-day and Click Here to register for a full-day!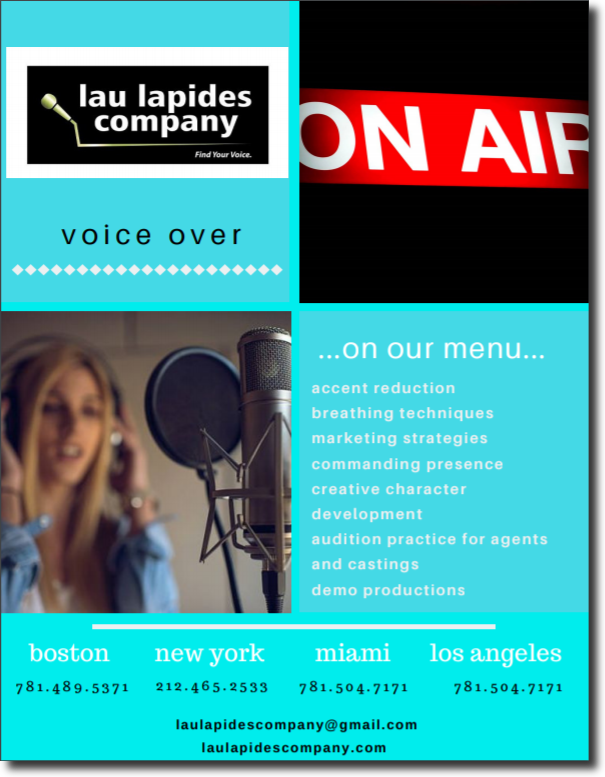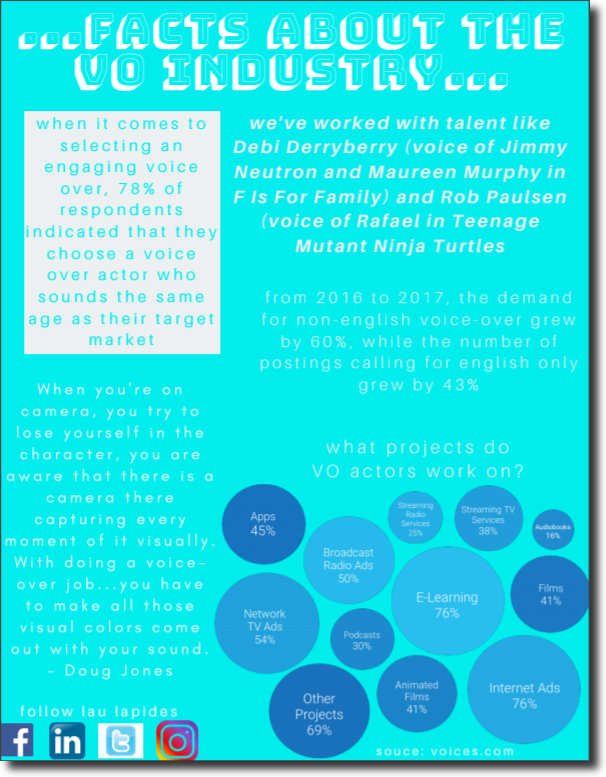 "No BS" hot topics may include: Learn & practice "real-time" audition tools & techniques, network with new colleagues world-wide, interpret, ad copy and scripts like you really know what you're doing, & develop a kick-#@! vocal prep system.
Industry standard, professional demo prep will be discussed as you detail & explore real audition gigs. National commercial spots, animation, narration, & eLearning may be in the mix—You name it, and we will hit it hard and fast for you to get the biggest bang for your buck! Come ready to talk, move, drink…water that is, and get wild and crazy! No prior experience required*
Studio Owner/President Lau Lapides bio as a director, producer & casting coach click here!
Testimonials
"Working with Lau, I was able to break through a wall that was keeping me from moving forward with voice-over acting. I would record something, then listen to it, and I would hear a "dead" voice. Not the voice of a human being. Not the voice of someone who should be listened to. Lau was able to guide me to a place where I was able to visualize and sink myself into a real situation, allowing me to wring humanity out of the words in front of me. She's also been an amazing guide through the BUSINESS of voice-over. I intend to continue working with Lau until… hmm… I don't know why I would ever stop."
– Eric Fox, Voice Over Talent

"Thanks again, Lau. You are really pointing us where we need to go, putting us in front to the right people, giving us the information we need to get started, and reminding us that the only way we'll ever get there is through our own habits of hard work and putting the customer first."
– Buzz Anderson, Actor & Voice Over Talent

"I met Lau in 2010 while searching for a new coach to advise me on updating my voice-over demo. We connected from the moment we first spoke…Her warmth, sincerity, humor, and passion for the fields of voice-over and acting oozed through the phone lines. What began as my proposed few sessions turned into a 2-year long holistic exploration into myself as a voice-over artist and a human being. Incorporating private voice-over coaching sessions, acting classes, singing lessons, and numerous Boston & New York-based voice-over workshops, Lau inspired me, encouraged me, helped me refine my skills, introduced me to a community of voice-over colleagues, and kept me laughing throughout the journey. Lau is truly a one-woman dynamo and a valuable asset to the voice-over community."
– Catherine Iagnemma, Voice Over Talent

"As director of a large Boston-based medical center, I sought out a communications coach to enhance my public speaking skills across all levels of the organization- staff, colleagues, and more senior management. I was very fortunate to find such a dynamic, dedicated professional in Lau Lapides. After meeting with Ms. Lapides, she impressively crafted and continuously developed a communications program that met specific as well as changing needs (there was nothing generic about it!). Lau both challenged me and supported my efforts to become a more effective and confident all-around communicator and public speaker. My improved speaking skills particularly showed up in the executive boardroom and as a conference speaker (Presenter and panelist). M. Lapides helping with my photography business. I have also taken acting classes at her studio, which are unparalleled in helping actors find their emotional center."
– William Donovan, Director of Investment Research and Partners Healthcare System Inc.
No Refunds for this event (due to the commitment of our facility and industry guests, we are unable to offer any refunds, for any reason including: Illness, injury, bereavement, scheduling conflicts—The show must go on).
Note: Industry guest schedules are extremely busy and are ALWAYS SUBJECT TO CHANGE* Participation in Class does not guarantee Talent will receive an industry meeting post event, nor secure any kind of representation or casting. LLC does not guarantee talent will be seen by specific representatives nor any particular number of representatives.
VIRTUAL "NO BS" VOICE OVER MASTER CLASS
With Lau Lapides, studio Owner/President
Sunday, September 20, 2020 from 6:00 – 8:00PM EST*
Fee $25  – YES, we've lost our minds!
Zoom link provided upon registration – Click here to register
"No BS" Hot Topics May Include:  Learn & practice "real-time" audition tools & techniques, network with new colleagues world-wide,  interpret ad copy and scripts like you really know what you're doing & develop a kick #$%^&* vocal prep system.    Industry standard, professional demo prep will be discussed as you detail & explore real audition gigs (copy).  National commercial spots, animation, narration & E-learning may be in the mix-you name it and we will hit it hard and fast for you to get the biggest bang for your buck! Come ready to talk, move, drink…water that is, and get wild and crazy! No prior experience required*
WHAT OUR CLIENTS ARE SAYING:
"Working with Lau, I was able to break through a wall that was keeping me from moving forward with voice over acting. I would record something, then listen to it and I would hear a "dead" voice. Not the voice of a human being. Not the voice of someone who should be listened to. Lau was able to guide me to a place where I was able to visualize and sink myself into a real situation, allowing me to wring humanity out of the words in front of me. I also been an amazing guide through the BUSINESS of voice over. I intend to continue working with Lau until… hmm… I don't know why I would ever stop." Eric Fox, Voice Over Talent
Thanks again, Lau.  You are really pointing us where we need to go, putting us in front to the right people, giving us the information we need to get started, and reminding us that the only way we'll ever get there is through our own habits of hard work and putting the customer first. – Buzz Anderson, Actor & Voice Over  Talent
I met Lau in 2010 while searching for a new coach to advise me on updating my voice-over demo. We connected from the moment we first spoke…her warmth, sincerity, humor and passion for the fields of voice-over and acting oozed through the phone lines. What began as my proposed few sessions turned into a 2-year long holistic exploration into myself as a voice-over artist and a human being. Incorporating private voice-over coaching sessions, acting classes, singing lessons and numerous Boston & New York-based voice-over workshops, Lau inspired me, encouraged me, helped me refine my skills, introduced me to a community of voice-over colleagues and kept me laughing throughout the journey. Lau is truly a one-woman dynamo and a valuable asset to the voice-over community." -Catherine Iagnemma, Voice Over Talent