✰ One to One Voice Over Coaching ✰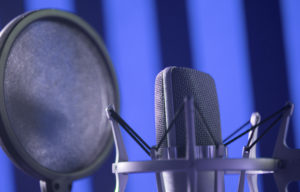 Do people tell you that you have a voice for radio? or TV? Or maybe you are good at impersonating vocals?
If you are curious about employment possibilities of Voice Over in commercials, audiobooks and animation, come sign up for 1 on 1 coaching. These sessions are full of tips and techniques designed to offer you an introduction to the exploding world of Commercial Voice Overs!
Through our coaching you'll learn
How to warm-up your voice and speech

Proper breathing techniques, articulation and accent work

How to create instant rapport with your audience

How to interpret a script with ease

How to create credible characters

How to make a voice over demo
Have fun building your confidence as a voice actor while learning about scripts (copy) from commercials, audio books, animations, video game characters, e-learning and more! It's a great opportunity to practice speaking in a supportive, pressure-free environment. Come dressed in comfortable clothing, bring a notebook and water.
Hear from our clients!
Our Voice-Over Objective
Our team of expert coaches are all currently working voice over models & talent in the industry and you can hear our voices on radio and television around the globe. We will work with you to design a coaching program that is a perfect fit for you-designed to suit your needs whether you are a seasoned VO models & talent, regrouping and rebranding yourself or brand new to the industry. Our coaching programs are available for adults, teens and children who are serious about working in the industry. We will guide you in creating and launching your Vocal "Brand." We will advise you on target niche industries where your voice will find work and recognition in the local, regional, national and international markets.
From our studios in Boston, New York & Miami to our national connections in Los Angeles, the mid west and south to international partners from the United Kingdom and Canada, we will help you get networked globally!
Demo Example
Candy O'Terry Commercial Demo
Our Promise to You: *100% money back guarantee if you are not completely satisfied within 30 days of your purchase* (Excluding Actor Reel/Voice Over Demo Services, Showcase Events, & Online Handling Charges)
*We Provide Live Readers for Your Vocal Booth Experience and Audience Critique Upon Request*
Topics Covered:
Accent Reduction
Breathing Techniques
Marketing Strategies
Ear Prompter Technique


Creative Character Development

Time & Career Management

Updating Current VO Demo

Voice & Speech Mechanics

Studio Protocol & Etiquette

In-Depth Information on Unions

Interpreting Copy

Appropriate Copy for Your Voice

Powerful Vocal Interpretation

Preparation for US & International Markets